Announcement RE: COVID19 & In-person Estate Sales on EstateSales.org
APRIL 1, 2020 On behalf of the entire team at EstateSales.org, we hope you're staying safe and healthy during this challenging time. As you may be aware, many states and counties in our country have issued "stay-at-home" orders and are urging people to avoid all non-essential outings. We understand that these orders are different depending on which part of the country you live in and will impact each estate sale company differently based on their area and methods of operation.
While the vast majority of in-person sales on our website have by now been either postponed or changed to by-appointment or online-only formats, EstateSales.org will be taking the following additional actions to help #slowthespread starting April 1st:
All new in-person sales which have dates that fall before May 1st or until the end of "stay-at-home" orders in your state (whichever is later) must be changed to the "Online Only (Don't show address)" option, which is available from the the address settings page.
Existing in-person sales that are NOT set to by "Online Only" in states with current "stay-at-home" orders must select the "Online Only" option.
If you are unsure if these changes affect you, please visit the "Address" settings page for each of your currently published sales and ensure that the checkbox for "Online Only (Don't show address)" is selected.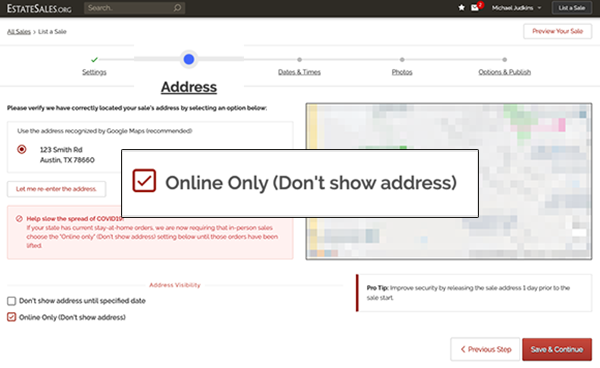 Now is a great time to try our online estate sale format. We have waived all item commission fees through the end of May. Learn how to conduct an online estate sale via EstateSales.org here. You may also be interested in how you can apply for an Economic Injury Disaster loan as a small business.
We recognize that your estate sale business may be shutting down temporarily during this time and we have received questions about pausing plans. For customers who don't plan to conduct any sales at all right now, we are offering you the ability to waive your next monthly payment without losing your account level. If you need to do this, we are an email or phone call away.
Thank you all for your continued support during these times and we send our positive thoughts to you and your loved ones.
---
---